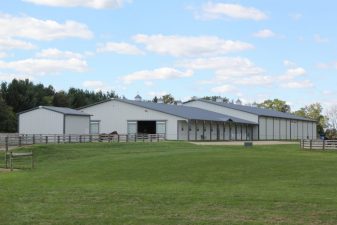 Your equine partner will enjoy a regular schedule including quality hay/water three times daily, grain twice daily, and frequent turnout in our all weather paddocks and grass pastures.
Our mission is to provide the best possible care by going beyond the boarding industry standards. The employees of Duzan Riding Academy maintain extraordinary lines of communication with horse owners in order to ensure that we are providing for all of your horse's needs. We are dedicated to the individualized are of your horse. We strive to provide a relaxing, knowledgeable, and enjoyable atmosphere for horses as well as their human companions whether your goal is to compete with your horse or simply to enjoy him as a pet. Duzan Riding Academy offers a wide range of services for boarders including training, additional or circumstantial/requested daily care, coaching of horse and rider at horse shows, taking lessons, as well as several youth programs.
If you have any questions or would like to see the farm, please email info@duzanridingacademy.com to schedule a tour.
Value Packed Full Board
$675/month
Exceptional Horse Care
Fans, Blanketing and feeding of your supplements (smartpaks preferred)  included in cost of monthly board
Boots put on for turnout and taken off when in
Deworming Program
Regular Vet and Farrier Visits
Low starch, high fat, high fiber grain for your horse's digestive health- Tribute Kalm 'n' EZ, Kalm Ultra, and Essential K
Free choice hay available at cost
Stalls cleaned meticulously every day of the week
Opportunities to work off board
Boarder Social Events
Owner lives on site
Discounts available if you want your horse used in light lessons, or if you ride your horse in your lesson
Amenities
Grass Pastures and All Weather Paddocks for Daily Turnout
Indoor Arena (200 x 90), Outdoor Arena (250 x 125), Round Pen, and seven turnout areas (dirt, grass, or all weather footing)
Spacious 12' x 12' Stalls
Two heated wash racks with hot water
Two grooming stalls
Stalls have windows and outlets
All stalls have rubber mats
Heated Tack Room with individual closet for each boarded horse
Washer and Dryer available for boarder use (bring your own detergent)
Extended Care Board Available $620
Extended Board is convenient for times of the year when a boarder is on vacation, during the cold winter months when they may not be able to visit and care for their horse as often as they would like, or if your horse required additional medical care. Extended board includes Grooming and Picking hooves out 4 days per week, Hoof Moisturizer or Thrush treatment applied weekly if needed, Salt/mineral block provided, Bridle path and muzzle clipped weekly, Administration of any extra medication or any other specific care that your horse may require. Extended board also includes your choice of lunging, hand walking, and/or hand grazing if needed.