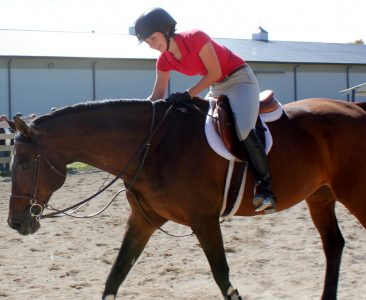 Welcome!
We are so happy that you have decided to look into riding lessons for your child or yourself, and that you are interested in our program. Horseback riding is beneficial physically, emotionally, and mentally. Through riding, students also learn responsibility, discipline, sportsmanship, patience, and confidence at Duzan Riding Academy.
About the horses
We offer lessons for students whether you own a horse or not. If you do not own a horse, you can borrow one of ours! Our school horses are extremely safe, and there is something for every age and level. We start our youngest students on our experienced ponies, which come in all shapes, sizes, and colors! Then riders may advance to horses as they progress through the levels. Each horse has it's own set of tack and equipment provided. Our horses are expertly cared for by our Horse Care Manager, and receive quality feed, daily turnout, dietary supplements, superb veterinary and farrier care, regular dental appointments, massage therapy, chiropractic treatments, and time off as needed.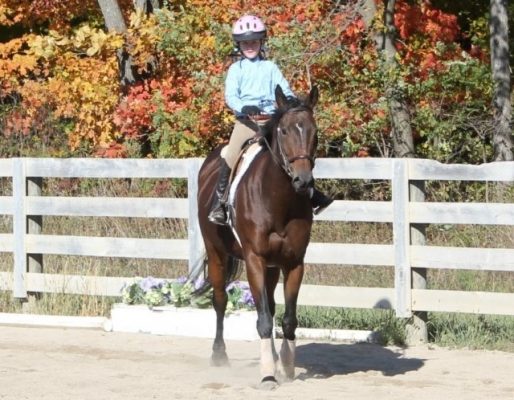 What you need to know
Each new student will take home a checklist of the minimum skills they can be expected to learn during their time with Duzan Riding Academy. We encourage students to progress at a pace that is comfortable for them. While we do track students' progress, we do not encourage an attitude of, "I am at such and such level." Often, riders bounce between a couple different levels at a time, or learn things in different orders, depending on what their specific education, age, or ability requires. However, this checklist is especially important for parents without equine experience. Along with the curriculum, each student will receive a set of barn rules, policies, and information packet to be returned to the DRA office.
Students are expected to take full care of their horse or pony before and after each lesson. This includes grooming the horse, tacking up the horse, riding, properly warming up and cooling down of the horse, un-tacking and grooming again, blanketing the horse if temperature requires, wrapping the horse's legs if it was jumped heavily, putting the horse and equipment away, and sweeping the tacking area when finished. Expect to spend 15-20 minutes before and/or after each lesson caring for the horse. We have experienced "lesson helpers" that will be present to help younger or inexperienced students, and parents are invited to participate if they would like.
Duzan Riding Academy accepts students ages five through adult. We do enforce a weight limit of 180 pounds to ensure the safety and longevity of our school horses.
About the curriculum
We welcome the very newest and youngest of riders, as well as those with age and experience. Lessons are taught with a hunter/jumper/equitation focus. Our instructors follow a predetermined set of skills that will be taught to each rider. Riders are taught how to think and feel what is going on while riding, and are taught to always ride with a training perspective. If you are not training your horse, you are un-training him! While our program focuses on riding skills, there are a set of horsemanship, or ground skills, that go along with each lesson level too. There is so much more to horses than just riding, and each rider should know how to expertly care for her horse.
Lesson Levels
* items in parenthesis are examples of some of the skills learned at each level.
Beginner 1: Introduction to Basic Riding (approaching and handling a horse safely, basic communication with the horse, riding on the lunge line)
Beginner 2: Walk and Trot, Ground Poles (Posting at the trot, jumping position, changing directions, cantering on the lunge line, trot a course of poles)
Beginner 3: Walk, Trot, and Canter (diagonals at the trot, ring etiquette, cantering with control, introduction to lead changes, canter a course of poles)
Intermediate 1: Beginning Jumping (basic jumping releases, trot cross rail courses, canter a single fence)
Intermediate 2: Intermediate Jumping (canter a single vertical, lateral work, counting strides, basic gymnastic lines)
Intermediate 3: Jumping Competence (ride equitation style courses, demonstrate collection/flexion/impulsion, jump oxers, ride transition smoothly)
Advanced: Advanced Jumping/Horsemanship (turn on the forehand/haunches, gain an understanding of different exercises to improve the horse, ride jumper courses)
Types of Lessons and Pricing
One Hour Group (3-4 Riders): $50
Half Hour Private: $50
Half Hour Advanced Private (Warm up 10-15 minutes prior, and cool down 10 minutes after on your own time): $55
About the instructors
Molly Wirtz is the owner of Duzan Riding Academy, and has been teaching since 2007. She is the main instructor at Duzan Riding Academy, and enjoys teaching all levels Beginner-Advanced. She coaches the Duzan Riding Academy Middle School and High School Equestrian Teams, and coached the Middle School Team to a 7th place National finish is 2014. She has also helped multiple riders to qualify and show at IEA Nationals. She takes several young riders to various shows, competing in United State Equestrian Federation, United States Hunter Jumper Association, and Ohio Hunter Jumper Association rated shows. She graduated from The Ohio State University with a Bachelor of Science in Agriculture, focusing on the animal sciences. Molly has a passion for teaching students horse care and consideration, along with giving them a solid and correct foundation in all things horse related as they move through the levels. Molly enjoys assisting riders in gaining a true understanding of their equine partner, and creating riders who can think independently and act based on what their horse needs in order to be a better partner.
Samantha Keeran has been teaching with Duzan Riding Academy since the beginning of 2014. Sam is an H rated United States Pony Club member (highest knowledge level), C3 rated in riding (equivalent to training level eventing). She has over 17 years of horse experience in eventing, hunters, jumpers, dressage, equitation, western pleasure, fox hunting, and games competitions. She is a graduate of the University of Florida with a degree in Biology. She competed through training level eventing (3'3″), 3'6″ jumpers, and First Level Dressage. Sam provides students with exciting and challenging exercises. She is great at teaching students to be focused and goal oriented, while relaxed at the same time.
About the Facility
Our facility has been expertly designed for the comfort of horse, rider, parents, and siblings! We are a family friendly environment and encourage siblings to join in on the fun! The barn and large indoor riding arena are both insulated. You'll find two heated, REAL bathrooms (no porta-potties here!), heated tack room, and heated lounge with large window looking over the indoor arena, complete with kitchen, play area, and TV with DVD player. There are even tables set up in the lounge so parents can work or students can do homework. Parents are also welcome to sit in the indoor arena so they can hear the lesson, which we highly encourage. In the summer, students will ride in our large enclosed outdoor arena, in the grass field between the house and the barn, and two acres of trails. Parents may sit close to the arena in our shaded Judges' Stand, or on the rocking chairs on the breezy, shaded front porch of the barn.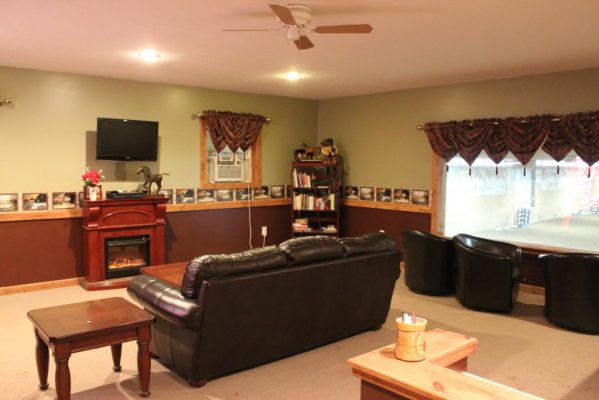 Equipment Required
ASTM/SEI approved Riding Helmet (that fits properly! Helmet fit guidelines
Breeches (riding pants for riders 12 and older or Jodhpurs (riding pants for riders 11 and under)
Paddock boots (can go with breeches or jods)
Half Chaps (go with breeches)
Crop
Spurs (for 12 and older)
*We do have some helmets available to borrow that are sanitized daily.
Policies
Here are a few policies regarding lessons that you might find helpful. A complete list is included in the New Student Packet.
Weather Cancellations- We do not have a set policy regarding weather cancellations since there is much to consider – roads, wind chills, arena temperature vs. temperature outside, etc. If we cancel lessons we will notify you by 1 p.m. on the day of the cancellation. For morning lessons, we will notify you as soon as possible. Please always check your email before heading out to the barn. For cancellations due to weather, you will be offered a makeup lesson.
General Cancellations- At times we do have to cancel for other reasons, and we will notify you as soon as possible via email.
Payment Procedures- Payment is due at the beginning of the month for however many lessons are scheduled for that month. This holds your regularly scheduled lesson time for you.
DRA Stable Rules and Etiquette
How to Get Started
*We currently have a waiting list for public lessons. Please email info@duzanridingacademy.com if you would like to be added to the waiting list.
1. Fill out form to be added to our wait list (available via email)
2. Schedule a tour of the facility. Meet the instructors and school horses.
3. Schedule an Introductory Lesson (For students with no experience, this is a great way to see if they are interested) or Schedule an Evaluation Lesson (For students who have prior experience, this will help us know what type of lesson to place you in. These lessons are conducted by Molly Wirtz, so that we can help to choose the appropriate instructor for your child's or your experience and personality. This lesson may be scheduled at the time of the Facility Tour. Please bring a signed DRA Disclosure & Release with you.
4. If you like the experience, we will then work on scheduling a regular, weekly lesson for you.
5. Upon officially registering for lessons and attending your first lesson, you will receive a New Student Information Packet that includes our Curriculum Checklist, Policies, Barn Rules, and Student Information (that you will return to the DRA office). Please read over these items carefully because they will answer many questions regarding payment, weather, and how to cancel a lesson.
6. Welcome to the program!