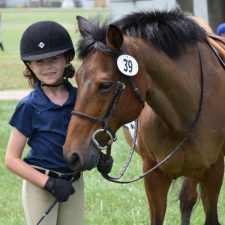 Duzan Riding Academy offers a variety of camps for all levels of experience and interest. Campers ride daily on our safe school ponies and horses–under the supervision of our experienced instructors. Hands on emphasis is on horse care, education, and fun- of course! All riding instruction is based on hunterseat equitation (and dressage, jumping, and schooling cross country for experienced riders) in an English saddle. Little Horse Lovers and My Own Horse Camps are limited to 6 participants to provide a special, individualized experience for your child. Campers will receive a workbook, a photo with their camp horse, and a camp t-shirt.
We are sure to have a camp that will grow your child's passion for horses!
Here's what parents need to know
Extra Care: Available Hours are 8:00-9:00 a.m. Monday-Friday for $20/day and 2:00-4:00 p.m. Monday-Thursday for $40/day. Please note that there is not after care available on Fridays. During this time, students will help around the barn, play games, complete crafts, watch a horse movie, go fishing, and/or feed the other animals on the farm (bunny, chickens, ducks, and a pig!) Extra care is only available for My Own Horse Camp.
Ways to Pay: We accept checks (payable to Duzan Riding Academy), cash, Venmo and Zelle. 
Liability Waiver: Participants must have a signed liability waiver on file before participating in camp activities. Click on the link to download and send in the form.
What to Bring: Treats (carrots, apples, or horse specific treats), Bug Spray, Sun Screen, Water bottle, Lunch, Hair Ties, Helmet, Riding Boots. Children will not be allowed to share food with other campers. Phones will be permitted during certain times of the day for the purpose of taking photos or checking in with parents.
What to Wear: Campers need hard soled riding (paddock) boots with a heel and riding pants or jeans for riding, but may bring shorts or jeans and tennis shoes to change into. Jeans must not have any buttons or embellishments on pockets that might scratch saddles. A helmet will be provided for each camper. Campers may bring their own properly fitting riding helmet, but bike helmets are not appropriate. Attire, helmet, and boots may be purchased at Equus Now in Lewis Center.
Camp Shirts: Each child will receive one camp shirt. Extra shirts may be ordered in advance for $12 each. Include payment with registration. Extra shirts may not be available for purchase after the May 15 deadline.
Registration Details
 
Cancellations: Campers cancelling on or before May 15 will be charged a $50 cancellation fee. Campers cancelling after May 15 up until two weeks before your scheduled week of camp will be charged a $100 cancellation fee. Cancelling less than two weeks prior to your week of camp will not receive a refund. Campers leaving camp early for non-emergency reasons will not be refunded.
Full Sessions: Full sessions will be noted on the website. Registration will be closed when a given camp is full, and you will not be able to register if there are no spots available. "Pending" means that we are awaiting payment and spots may become available in a camp if payment is not received within one week of registering for camp. You can fill out the Waitlist form if you want a spot in a camp that is full or pending.
Please note that your spot in camp will not be reserved until you have paid for camp, and have submitted the registration form and waiver. You will receive confirmation from our office within one week of when our office receives payment or notification of payment via zelle or venmo. If you need confirmation sooner than this, feel free to email.
How to Register
Online Registration Form – fill out the form that corresponds to your chosen camp.
Sign and send in DRA Disclosure & Release
Pay by check, Venmo (@DuzanRidingAcademy), or Zelle (info@duzanridingacademy.com).
2023 Summer Camp Schedule & Registration Forms
2023 Summer Camp Waitlist Form (all camps)
 2023 Junior Camp Counselor Form 
Duzan Riding Academy Camp Descriptions
Each daily riding lesson will be specifically tailored to the individual's readiness to do each skill, and we will progress in a safe manner at a rate comfortable for each student. We may even be able to include more activities based on the skills and learning styles of students in each particular camp. 
Little Horse Lovers Camp (Ages 5-7 Year Olds)
*Riders must be 5 years old by the start of camp. No exceptions.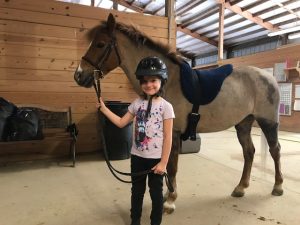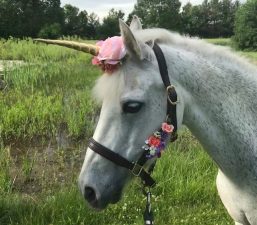 Days: Monday-Friday
Time: 10:00 a.m. to 2:00 p.m.
Cost: $450
Registration: 
Week 1 Little Horse Lovers Camp May 30 – June 2, 2023 
Week 8 Little Horse Lovers Camp July 24 – 28, 2023 FULL
Description: This camp is ideal for our youngest riders who just can't wait for more time in the saddle, and for young horse enthusiasts who want to try being around horses for the first time! Activities will be centered around horses and we will use games, crafts, and stories to teach these littlest riders the basics. Each rider will have an older, experienced student leading their horse and working with them individually, as well as our regular instructors. There are no extended hours for the Little Horse Lovers Camp. This camp is limited to 6 spots.
My Own Horse Camp (Ages 8-16)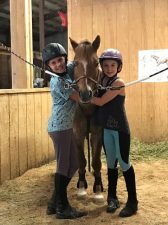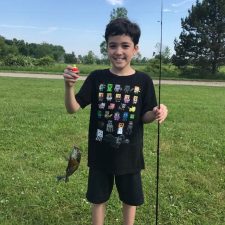 Days: Monday-Friday
Time: 9:00 a.m. to 2:00 p.m.
Cost: $500
Registration:
Week 3 My Own Horse Camp: June 12-16, 2023 FULL
Week 6 My Own Horse Camp: July 10-14, 2023 FULL
Week 7 My Own Horse Camp: July 17 – 21, 2023 FULL

Description: This camp is appropriate for the avid horse lover that wants the experience of having a horse for a week! Each camper will be assigned a mount based on their experience. Campers will learn all about their horse and how to care for the horse's specific needs as well as ride it, train it, and develop a special bond as the week goes on. Campers will learn or refine skills such as grooming, bathing, feeding, stall cleaning, basic first aid, tack cleaning, and more! Spaces are limited to 4 riders per camp.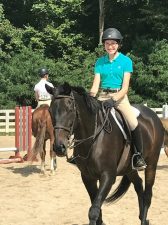 Equestrian Team Boot Camp (Going into 4th – 12th grade)
Days: Tuesday, August 1 – Friday August 4
Time: 8:00-2:00
Cost: $500
Registration: EQUESTRIAN TEAM BOOTCAMP SIGNUP (DRA RIDERS ONLY) FULL

Description: In this exclusive camp for our IEA riders only, students will "draw" horses to ride each day. Future IEA riders going into at least fourth grade welcome and encouraged to attend! 
Activities will include:
Question and Answer Classroom Session with a Judge
HOURS of riding per day!
Video recording of courses and flatwork, then evaluation of video
Practicing USEF and IEA tests that judges may require riders to perform at shows
Daily course work with Equitation style courses with advanced maneuvers like roll backs, bending lines, trot fences, end fences, and option fences for riders jumping up to 2'6″.
Lunge line lessons for balance, strengthening, and improving position
Gaining a deeper understanding of what judges look for at an IEA show
Team bonding! 
Physical Fitness exercises
Learn how to judge and score a course
Mock Horse Show with riders divided into teams of 3-4 riders
Team movie night / campout
Possible clinicians for riding portions if enough riders sign up!